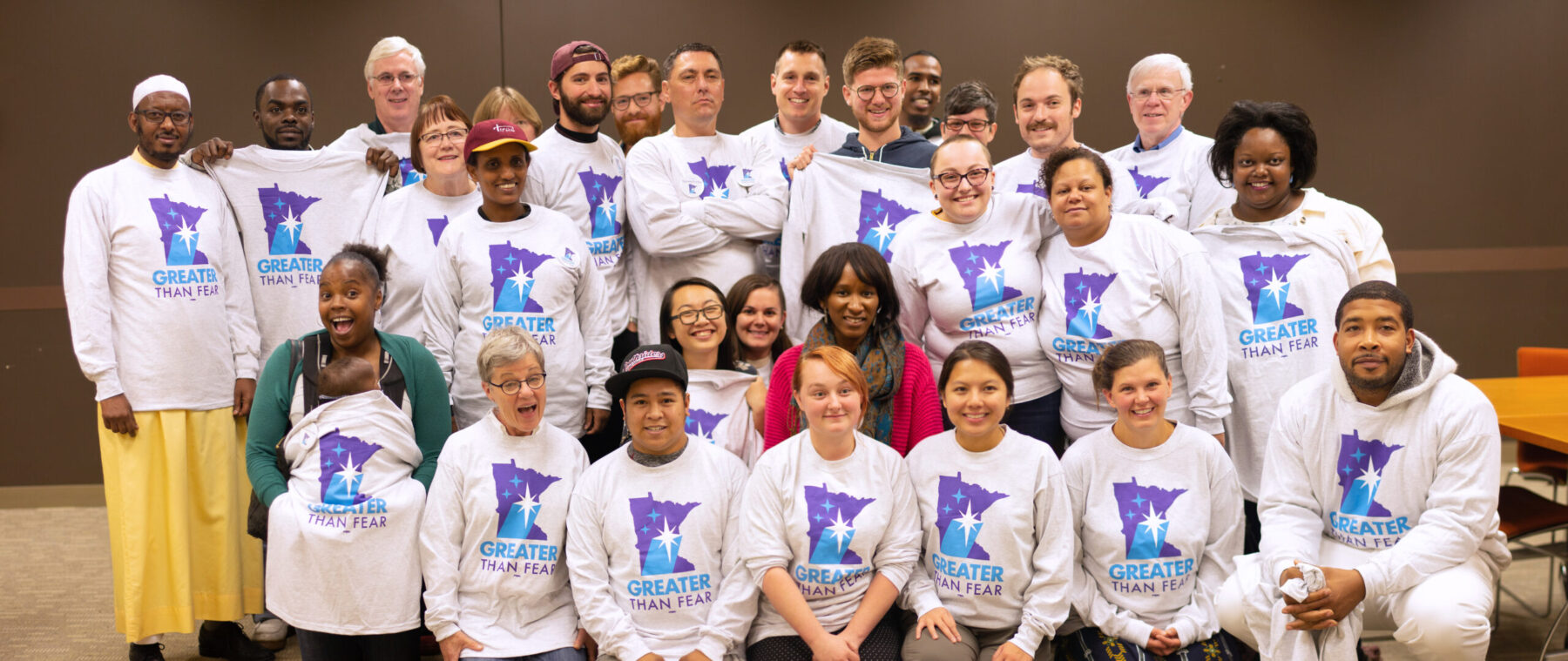 NOW HIRING
A Creative & Nimble Digital Strategist
ABOUT GREATER THAN FEAR
In 2018, Faith in Minnesota was a key player in Minnesota's highly successful Greater Than Fear campaign, which brought together labor unions, faith groups, and community-based organizations to take on dog-whistle politics, shape progressive candidates, and build a strong mandate for a robust racial and economic justice agenda.
The campaign was grounded in the belief that:
Minnesota's strength comes from our ability to be there for each other – to knit together people from different places and of different races into a community;
We cannot let the greedy few and the politicians they pay for divide us against each other based on what someone looks like or how much money they have; and
Together, we can make this a place where freedom and community are for everyone, no exceptions.
The campaign was also grounded in a narrative framework and strategic approach called the Race-Class Narrative, which has shown through empirical research that progressives win when we focus on the connections between racial and economic justice, rather than choose one or the other.
Building off of Greater Than Fear's success in the 2018 election, Faith in Minnesota and our partners seek to scale our strategy to defeat divide and conquer politics under the Greater than Fear banner through the 2020 election season and 2021 Legislative Session.
ABOUT THE ROLE
We are looking for a creative and nimble Digital Strategist to run digital campaigns and produce digital content to motivate, engage and grow digital audiences across a set of aligned movement organizations under the Greater Than Fear campaign banner. Although this position will be housed by Faith In Minnesota and a focus of this position will be to advance and expand the digital community around FiMN, we are also building shared communications capacity across communities and organizations.
Responsibilities will include assisting with the creation of digital assets (social media content and strategy documents, digital ads, etc.) for Greater Than Fear's Communications Hub. The Communications Hub offers tools, training, creative content and research for the campaign (including for use by our partner organizations in their own communications work).
Are you someone who can quickly translate communications strategies and objectives into digital assets, tools and resources? Are you a good writer with an eye for design who can quickly produce clean, persuasive copy and social media graphics that look good? Are you excited at the prospect of working with a coalitional team to build cross-racial solidarity and engage voters in Minnesota? If so, please read on!
Responsibilities
Assist in the coordination, planning, and creation of digital assets (including digital content, strategy documents, social media toolkits and digital plans) for the Communications Hub, with a particular focus on increasing the presence, quality and reach of Greater Than Fear's content on social media platforms (esp. Facebook, Twitter and Instagram).
Manage Greater Than Fear's social channels: create content calendars, develop growth and engagement strategies, draft copy, create content (including basic graphics and memes), schedule posts, manage comments, and report back about what's working and what's not.
Become deeply familiar with the Race Class Narrative (our narrative and strategic framework) and apply it to your work.
Identify and capitalize on high-impact ways to get others to share (or otherwise amplify) our content.
Draft video scripts and coordinate and/or perform interviews for use in videos
Support digital advertising efforts (mainly Facebook Ads, Google AdWords, and paid YouTube Ads campaigns), including concept and creative development, audience targeting, content testing and implementation.
Identify creative opportunities to use digital to support or improve the campaigns Faith in Minnesota or our partner organizations are running on the ground.
Track changes to the digital landscape (the tools and technology available, the behavior of the platforms, etc.), and identify opportunities for us to innovate or adopt updated best practices.
Help design, run and analyze digital tests with consultants and vendors.
Regularly update and manage Greater Than Fear's digital assets, including but not limited to its email list and website.
You could be great for this role if:
You're a creative and nimble digital strategist who has at least three years of experience (ideally more) using social media, digital advertising, and other digital tools in an organizational context to engage people and mobilize them to take action.
You're an excellent all-around communicator and have the ability to quickly draft sharp, persuasive and well-messaged copy for a variety of audiences.
You have solid design chops. You don't need to be a graphic designer, but you should have an eye for design and at least some ability to use software like Photoshop or Illustrator, basic video editing, meme & GIF generators, and/or apps like Canva.
You have expertise in a range of digital tools and tactics, and have a good understanding about the different ways they can be leveraged in different campaign contexts (e.g. supporting earned media vs. driving event attendance, rapid response vs. planned campaign arcs, audience acquisition vs. persuasion/awareness, etc.).
You have the ability to thrive in a fast-paced environment, and possess an adaptable style that can drive progress even amid ambiguity and complexity.
You can take an idea and run with it, while also keeping team members in the loop to ensure you get the feedback and buy-in you need.
You have a solid understanding of the strategic and tactical differences of various social media platforms in terms of goals and audiences.
You can come up with creative and actionable ideas for attention-grabbing memes, graphics, and videos that will cut through the noise on social media.
You have a head for numbers and can run A/B tests and draw actionable insights from digital metrics and analytics data.
You have field or electoral experience, or you're curious about it and want to learn more.
You can juggle multiple priorities simultaneously and meet established deadlines without letting things fall through the cracks.
You can work well with people from diverse cultures and backgrounds, and you have a sensitivity to and respect for cultural differences.
You're values-aligned. You support our mission and vision, you are genuinely interested in grassroots organizing and lifting up the voices of real people in Minnesota, and you have a strong commitment to racial and economic justice.
While not expected, a strong candidate might have one or more of the following:
Extensive experience (ideally more than five years) working in a digital capacity for advocacy organizations, unions and/or electoral campaigns.
A fluency in Minnesota's political landscape
More than a passing familiarity with the Race Class Narrative findings.
Experience with digital organizing or integrating digital and field campaigns.
Experience in public opinion research and/or message testing.
Significant experience managing organizational stakeholders in a coalition (or similar) setting.
A record of growing and engaging large audiences on social media channels, and/or a record of managing high-profile social media accounts.
Experience managing a large digital advertising budget or executing large digital advertising campaigns.
Experience managing graphic designers, coders and/or videographers to produce content on spec, on time and on budget.
Nuts-and-bolts organizing or field experience.
A history of active involvement in social movements that work to support immigrant rights, racial justice, economic justice and/or protect our democracy.
Familiarity with key data toolsets and platforms widely used in the progressive organizing world (e.g. TargetSmart, Civis, NGP VAN).
Experience with blast emails tools and online activism CRMs (Action Network, ActionKit, NationBuilder, EveryAction, New/Mode, Blue State Digital, etc.)
Experience with web development languages (CSS, JavaScript, and HTML)
Experience working in a remote team environment.
ADDITIONAL INFORMATION
This will be a full-time, exempt role that can be done remotely from anywhere in the United States. However, regardless of location, the candidate should expect to work a regular schedule of 9am-6pm Eastern or Central Time. Occasional work on nights and weekends will be required.
The compensation for this role includes a salary of $60,000-70,000 (depending on experience and the cost-of-living where you're located) and excellent benefits including health insurance, a retirement package and generous vacation.

This role is fully funded through the end of May, 2021. The continuation of the role past that time is contingent on securing additional funding.
This position will report to the Senior Digital Strategist.
ABOUT ISAIAH AND FAITH IN MINNESOTA
Faith in Minnesota is the 501(c)(4) arm of ISAIAH, a multi-racial, statewide, nonpartisan coalition of faith communities fighting for racial and economic justice.
Through Faith in Minnesota, leaders across the state act boldly and prophetically to create a people-centered politics in Minnesota—one grounded in abundance, not the myth of scarcity, and one centered around people, not the needs of corporations and special interests.
Together, we work to create a Minnesota that is inclusive and just for every person – where everyone is in and no one is out.
APPLICATION INSTRUCTIONS
Please email your resume, answers to the questions below, and (ideally) a sample of your work as an attachment to: faith_in_minnesota@faithinmn.org
In lieu of a traditional cover letter please answer the following questions:
Why are you applying for this job? (Suggested word limit: 200)
What's something you've done that demonstrates your creativity and/or strategic sensibility (ideal in the digital realm)? (Suggested word limit: 200)
In the About this Role section of this job listing (see above) there is a list of bullet points under the heading "While not expected, a strong candidate might have one or more of the following…" Which of these bullet points do you believe you bring to the table? Please list them with a few words of explanation if that's useful. Note, where there is a list of different ways to meet the criteria of a single bullet point, please specify which one(s) you bring to the table.
In addition, please be sure to include your last name and "Digital Strategist" in the subject line of the email.
Questions about this position or the application process can be sent to faith_in_minnesota@faithinmn.org.
Applications will be reviewed on a rolling basis, with applicants encouraged to apply ASAP and no later than 11:59pm ET on Sunday, June 21.  
Please note: ISAIAH will be the employer of record for this role.
ISAIAH values a diverse workforce and an inclusive culture because we recognize that diversity within our staff helps us organize and work well with diverse religious communities and progressive constituencies in Minnesota. Candidates should be respectful of people of faith, but may be of any (or no) faith or religious background.
ISAIAH is an equal opportunity employer with a strong commitment to social justice. People of color are strongly encouraged to apply.